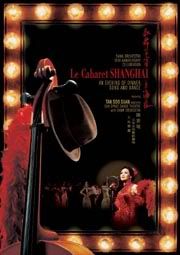 Le Cabaret Shanghai
An evening of dinner, song & dance featuring soprano Tan Soo Suan and Dua Space Dance Theatre with Dama Orchestra
Come and celebrate with Dama in a scintillating presentation of evergreens that will sweep you off your feet. Relive the bygone era of "Old Cosmopolitan Shanghai" entertainment - a colourful spectacle of cabaret and dance numbers made famous by legendary divas, like Ge Lan, Bai Guang, Li Xiang Lan, Jing Ting, Phang Xiu Qiong and others, during the heydays of old Shanghai (in the 30s and 40s) and Hong Kong (in the 50s and 60s).

Yes, it's shi dai qu (popular Mandarin Golden Oldies) with its dancing shoes on. Come and experience the sizzles of the old China musical dance hall of those golden years. Hum along. Swing in rhythm. And jive to those beats. Your evening will never be the same. It's the ultimate Shanghai Night. So make a date with the Gang ….. at Le Cabaret Shanghai. Simply unforgettable. And truly memorable.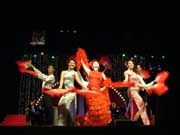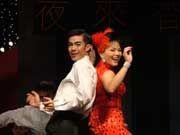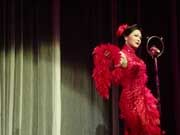 Ahh...don't we love generous clients =) Went for the charity gala premiere of Le Cabaret Shanghai (LCS) on 24 September 2004...courtesy of a generous client (I'm in merchant banking ok...don't be getting any ideas).

Being at my first Dama Orchestra production and having heard so many rave reviews, LCS turned out to be a little disappointing. The music was good, the soprano was almost faultless in her delivery, but somehow the show just didn't engage. Thinking back, the hearty dinner before the show probably left most of the audience sedated in their seats. The applause was so half-hearted it was embarassing.

Nevertheless, kudos to Tan Soo Suan for her almost spotless vocal performance, combined with all her sashay-ing with the dancers. Pity it wasn't the right audience.

Photos are up.