After receiving so many requests from crazed fans asking to see the pictures from my recent diving trip in Pulau Perhentian (hoping to catch a glimpse of gleaming hot bods in the sun perhaps?), in my kind benevolence, I have decided to come up with a series of posts that will feature some pictures as well as a little log of what we did over the 5 days that we were there.
Day 1 started off in the wee hours of Friday (incidentally the 13th!) morning where I really had to struggle to peel myself out of bed after only managing to squeeze in a few hours of sleep. Took a quick shower and then woke Eu Bing up, who then gave me a ride to KL Sentral where I was to meet up with Angie, Kathy, Irene and Joanne. Kat however, who is normally Miss Reliable, surprisingly overslept today and so ended up heading to KLIA on her own.
Well, fast forward through the bus ride and breakfast at McD's, we finally made it to the runway tarmac all ready to go!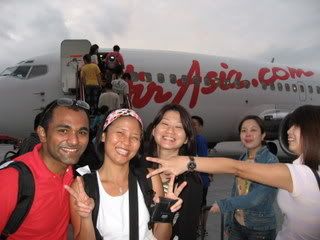 C-c-can't control self. H-h-have to do
lala
pose for the camera.
On board the plane…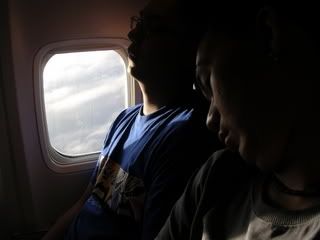 Some slept.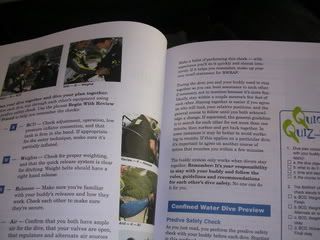 But I did the
kiasu
thing by studying my scuba diving material!
Before long, we arrived at the land of tudungs and keropok lekor…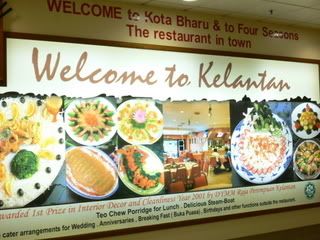 Kelantan!!
As there were 23 of us (yes, our original group just grew, and grew, and GREW), good ol' Kelvin (a.k.a. our de facto tour leader) chartered a bus to take all of us from Pengkalen Chepa Airport in Kota Bahru to Kuala Besut, where we were to hop on a boat to the island.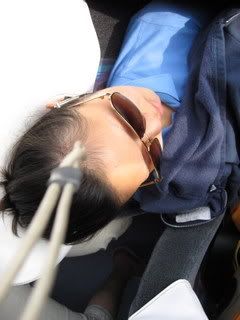 No prizes for guessing what most of us did on the bus.
Upon arrival in Besut…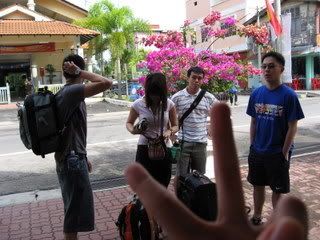 How long, O Lord???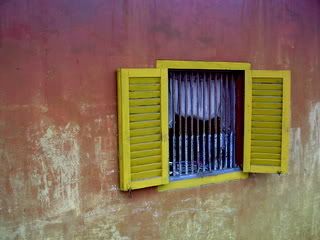 I was bored so I took a stroll around and took this picture which I really like. A fitting addition to my collection of window/door pictures!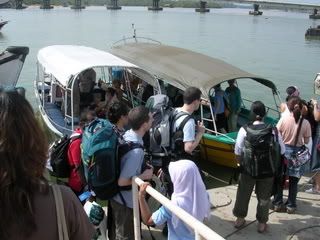 Time to board the boat…finally!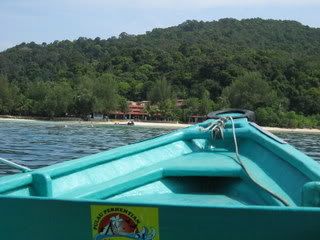 After approximately 40 minutes of heart-stopping moments on a crazy boat ride that left our knuckles white, our destination was finally in sight.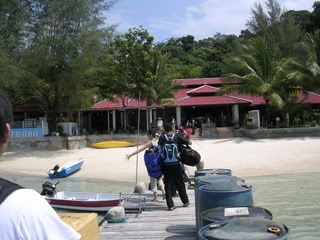 And we have arrived!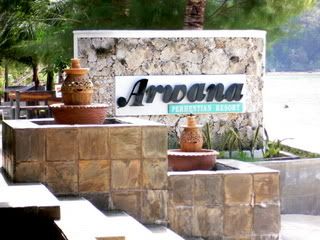 Our home for 5 days – Arwana Perhentian.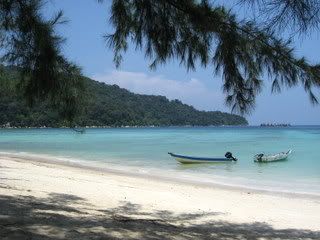 Welcome to paradise on earth!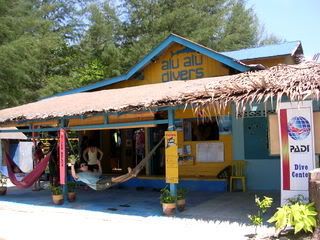 Our dive centre…Alu-Alu Divers. Most of our daily activities revolved around this little shack.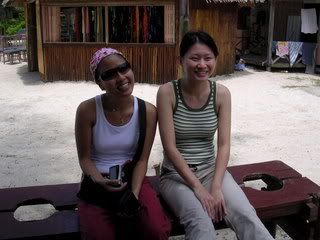 As you can see, island life is pretty casual. They even have the communal
si hang
. Here, Kathy and Angie try to fit in with the local culture.
After dumping our stuff and having a short time of rest over lunch, it was down to serious business! Can't waste precious holiday time! Erm, but well, unfortunately for us aspiring Open Water (OW) divers, it was the classroom that we had head to first of all.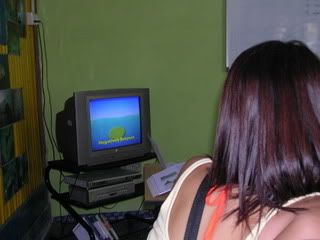 So there we were watching videos…
…filling up forms and going through our notes. *SIGH*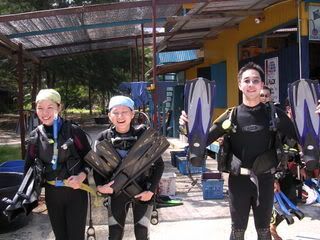 While our leisure diver friends were all suiting up…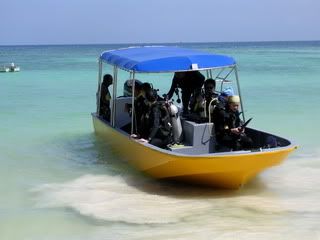 …and heading out to sea already! BOOO!!
Anyway, fast forward to dinner on our first night in Perhentian. We took a stroll along the stretch of beach in front of our resort and ended up at Fauna, which was one of the few other resorts dotting the beachfront of Teluk Dalam. The place was packed with people but we managed to get a few tables set up on the beach that had enough space to squeeze most of us in.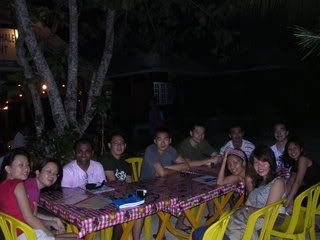 Dinner at Fauna.
Well, that was about the end of Day 1 as I remember. We spent the rest of the night just chatting before retiring early to bed. No drinks. No hanky panky. Such wholesome and decent company indeed!! Haha…