ROAR!! I'm back!!
And what a month is has been! From crazy working schedules, to last minute cramming in for exams, dotted with various activities in between...WOW!! I'm glad I'm alive!
First up, the YF saw its long-absent games time make a comeback of sorts. Thanks to YF game-maestro David Lee, the kids revelled in (I kid you not) "Stupid Games", "Lame Games", "Neverending Games", and many other sessions of likeminded frivolity.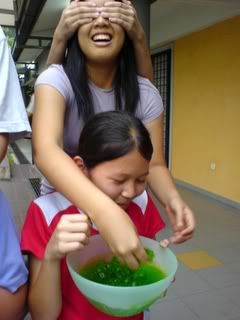 Eat that jello gurl!!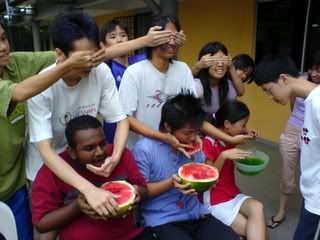 Watermelon never looked so unappetising.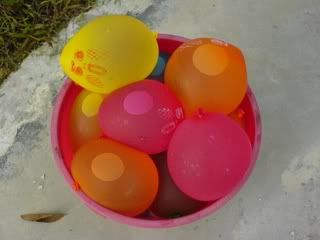 Look at 'em tempting water balloons!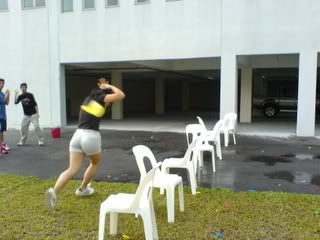 Playing a game of dodge the water balloons.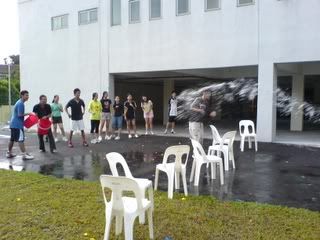 Aiyah...forget the rules!! Unleash pure evil!!

Studying was tough. It's even worse when you live alone and you practically have no one to bug when the going gets tough. So what do I do to stave of boredom and maintain my sanity?
Answer #1: I break records!
Try this with your car next time. And it's not about inching s-l-o-w-l-y towards the gate okayy. Just drive up and hit the brakes! Hopefully before you hit something else! I managed about 1 inch. Now beat that.
Answer #2: I try not to break the dishes!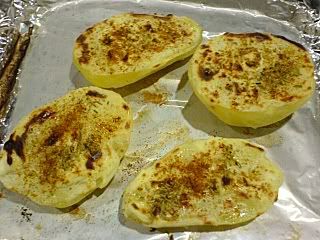 Cooking is fun! Here are some baked spuds with cheese and rosemary.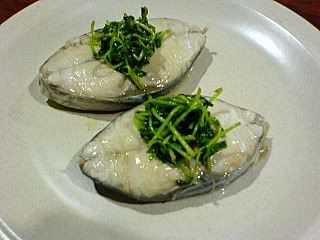 A simple steamed fish dish with some pea sprouts or

tau miu

.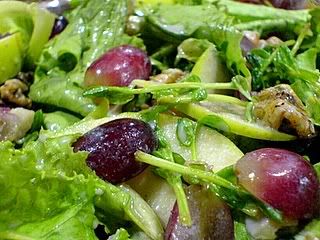 An experimental salad that was a toss up of some salad greens, green apple, red grapes, pea sprouts and walnut. Point to remember: go easy on the apple cider vinegar.
Answer #3: I simply take a break!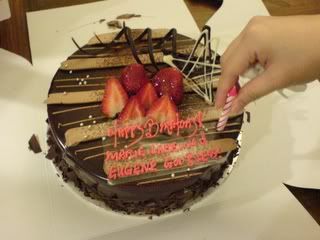 Happy birthday to Lareina, Marie and Eugene!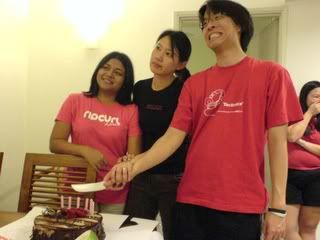 The birthday subjects (minus the pomelo) ;)

Was back in JB for 2 weeks until last Saturday. Just had to go back to home sweet home for a study break since studying in KL was proving to be rather unproductive. Once back to creature comforts such home-cooked food and laundry services, I was supposed to have been able to concentrate beter on my studies. Well...kinda lah haha.
Well, our house has turned into a mini zoo, with the chickens all grown up, and with the addition of a new puppy to the family.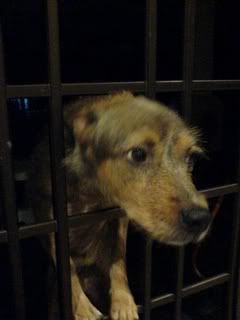 Almost every dog owner has a dog called Lucky! So, meet Lucky...our (say it with me) Peh-rye-ah, as she peers curiously into the house.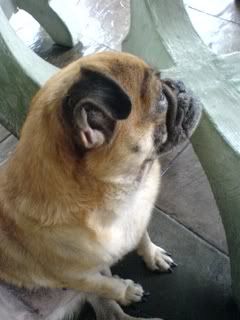 Hmmm...what's for dinner? Meet Happy, the pug-chihuahua, as she takes in a moment of contemplation.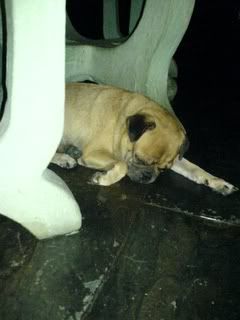 The spot under the table in the terrace is clearly Happy's favourite! Here she is taking an evening nap before she realised the annoying camera "flash" from my phone.
The latest addition to our family. Meet Oreo the Rottweiler! Here she is trying to look all cute and adorable for the camera.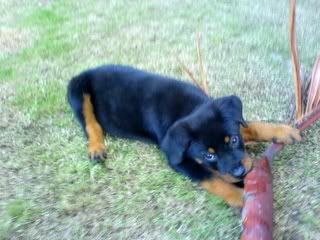 In truth, Oreo's a real beastie! I already bear the scars of being "playfully" bitten by her, not once but TWICE! And she's only about 3 months old! We're disciplining her with a rotan these days. Really thick skin though. Here she is tearing our garden apart.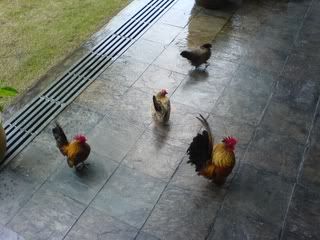 The 4

ayam serama

that we keep at home; once little chicks, now all grown up. They once used to be able to fetch RM500 each, almost the price you would pay for a pedigree pup! Sadly, with the advent of the bird flu, these birds probably just look fit for the pot.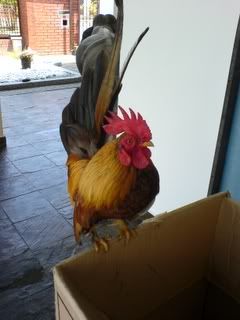 Check out the cool feathers on the rooster. Yes, these birds are "not for eating, only ornamental okayy".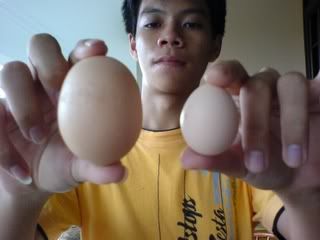 The younger hen just started laying eggs recently. Check out how tiny her eggs are compared to the average chicken egg!
Well, that's the month of May for ya! More pictures to come after I get back from UK and Ireland! Off I go to Liz's pad!