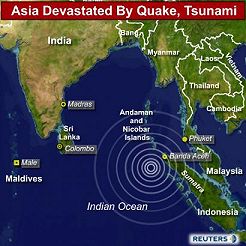 The world's biggest earthquake in 40 years hit southern Asia on December 26, 2004, unleashing a tsunami that crashed into Sri Lanka and India, drowning thousands and swamping tourist isles in Thailand and the Maldives. The earthquake measured 8.9 on the Richter scale.



Locals and rescuers carry a girl from the Marina beach after a tsunami hit the southern Indian city of Madras.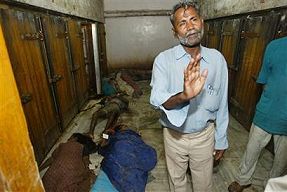 A hospital employee gestures to visitors, unseen, at the mortuary of a government hospital as he tries to assist them in identification of unclaimed bodies of victims who died in a tidal wave at the Royapettah Government hospital in Madras, India.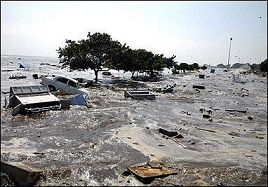 The scene at the Marina beach in Madras, India, after tidal waves hit the region.



A woman weeps showing what is left of her home along the coast in the southern Sri Lankan town of Lunawa.



Undated handout photograph shows a Mexican couple Jacobo Hassan and Karen Michan. Jacobo Hassan is still missing after the resort island of Phi Phi was hit by a devastating tsunami, while his wife is receiving assistance in Phuket.